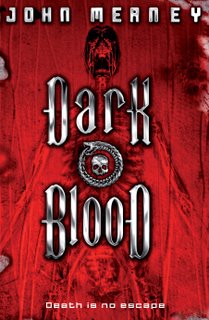 DARK BLOOD...
...is the name of the sequel to Bone Song, and I'm hammering away at revisions before a ghostly figure comes hammering at my door and howls: *IS IT READY YET?* Or perhaps that's the fear speaking.
In February, the UK paperback of Bone Song comes out, just as Bone Song makes its official US debut. Previews -- in the form of bound proofs -- appeared at ComicCon in SanDiego, thanks to Juliet Ulman and the wonderful folk at Bantam. And I've received most excellent feedback from the first US readers, thank you!
And my wonderful British publishers, Gollancz, with the gorgeous Simon Spanton (!) being my editor, already have the artwork for Dark Blood. What do you think of it?
Me, I love it.