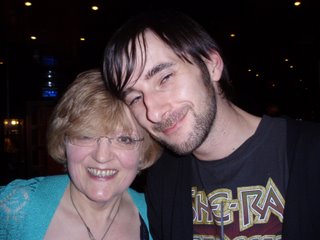 NEW INTERVIEWS
That's Yvonne with Orion publicity manager (guru) Jon Weir. This was Eastercon, where altered states abounded.
So speaking of publicity, here are some recent interviews with yours truly. First, I talked with John Joseph Adams about
Bone Song at SciFi.com
.
And then Sandy Auden and I chatted about
Dark Blood at the UK SF Book News Network
.
And I had a very nice time. Ta lots to John and Sandy, both.