OLD FRIENDS, NEW FRIENDS
...I'd say mature friends, but heck, that makes it sound as if we have to grow up. That is optional, isn't it?
So less of the philosophical essay and more of a dear-diary kinda post, this time round.
Last weekend I caught up with friends from way back -- Justine Fidler (as she is now) and new hubbie Steve -- and Sally Burns and Bill Hamilton. Good to see y'all. Also Sylvia and David. Hugs, everyone...
Earlier that week, I got to meet that excellent thriller writer Barry Eisler, breezing through London on yet another global jaunt. Apparently he has to do loads of exotic travel in order to be able to write.
Also met up with writer/editor Bridget McKenna (close friends from way back when) and screenwriter Adrian Reynolds (first meeting in realspace).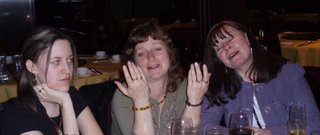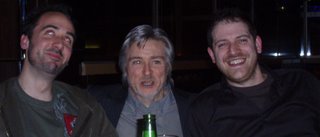 And of course at Eastercon, there was renewal of old acquaintances. Great to catch up with China Miéville and Jessy, with Joe Abercrombie, Chris Wooding (that's the three of us, pictured) with our minds completely unaffected by the evil spirit summoned by the three witches overhead -- er, I mean the three princesses of fantasy fiction -- Jaine Fenn, Suzanne McLeod and Alex Bell. Also great to hang around with Ian McDonald and his missus Enid. And everyone else.
I also made contact with some harder hitting friends, having found a new kickboxing gym to train in. Cuts and bruises heal, I'm glad to say. Especially when you're young like me...
Keep healthy, all.